Custom Color Pen Tip Collection
Enjoy Smooth Writing and Coloring with Our Custom Color Pen Tips
Color Pen Tip Introduction
There are many advantages to having a custom multi colored pen tip. The tip size determines how thick the line is when you roll it across the paper. The tip size can make a significant difference in the quality of the writing experience and the length of time that users will keep the pen. A quality pen tip is a valuable investment and should last for a long time. A custom multi color pens tip can be useful for many reasons, including writing, sketching, and color coding. At Kaywin Pen, we manufacture and supply color pens with custom tips. You can customize the pen tip to meet the demands of your end customers, i.e., students, professionals, writers, artists, etc. Our custom pen tips can give you full control when using the pen. At Kaywin Pen, all our products are tested for safety and meet international testing standards. 
Fine nib pens for quick sketches
With a special arrowhead tip that prevents pushback of ink and also sealed the tips with wax to stop any leakage.We have researched rigorously and to provide a multipurpose utility to you, we have identified 13 types of pen tips.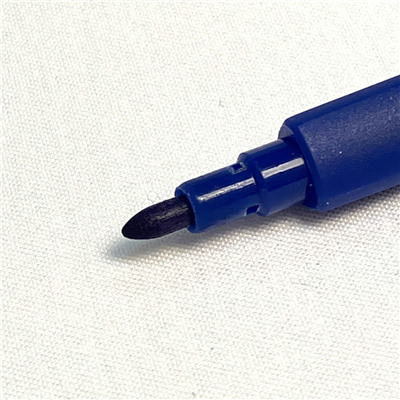 Fine Tip
Fine tip color pens have tips made to write a line that is 0.8 mm thick or less.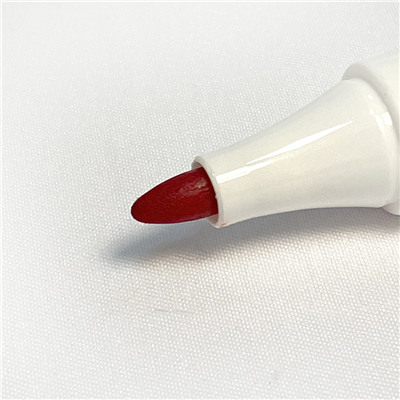 A felt-tip or a felt-tip color pen is a pen which has a piece of fibre at the end that the ink comes through.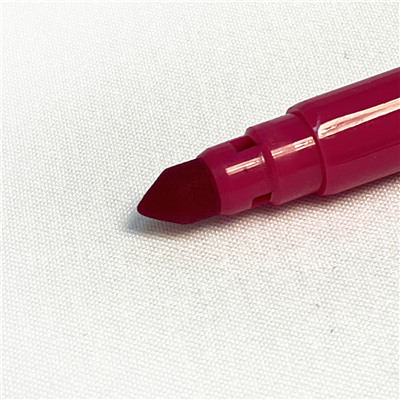 Generally speaking by design a conical point is going to be stronger than a needle point.
Features of Custom Color Pen Tip
Colored pens are a fun way to add some flair to planners, calendars, and architectural drawings. At Kaywin Pen, you can choose from a variety of tips to customize your multi colored pens. These pens come with various tip shapes and sizes, from fine to broad, so you can create bold lines and designs. You can also choose from a wide array of colors for your pen.
Porous and Fibre Tip Material
The advantages of using a porous fiber tip in marker pens are clear: it's much easier to apply ink and lasts a long time. This type of material is made of polymeric fibers that are bonded together at the point where the fibers touch, creating voids in the material that allows fluid to pass through. At Kaywin Pen, we use porous and fiber materials to manufacture pen tips. 
Comfortable and Smooth Writing
If you want to make your writing experience more comfortable and smooth, customize the tip size of your pen. The tip size determines the thickness of your line when you roll it across a piece of paper. It makes a difference in the writing experience, as well as the retention of your pen
Absorbs Ink Easily
Choosing the right pen tip is critical. The ink absorbs differently on different types of paper, so one type of ink may look darker on another. The tip used in your pen will also affect how much color the ink reflects on the paper. Our custom color pen tips help to easily absorb the ink and get the best color on paper. 
Types of Color Pen Tips
Colored pens come in various point types. At Kaywin Pen, we can customize the size, style, and type of pen tip. The extra-fine and fine points will mark details more precisely, while the medium point will display different levels of information. You can also find different styles of the tip, i.e., round, bullet, conical, chisel, etc. 
Pen Tip Sizes
You can customize the pen tip size from 2.0 to 9.4 mm. We manufacture and supply color pens with different tip sizes. A fine-tip pen can help you with writing stuff, whereas a pen with a thick tip can be used for coloring or drawing. 
Versatile Tip
The custom color pen tip features a unique tip design that makes it a perfect choice for both writing and drawing. Whether you're a beginner or a professional, customizing your pen tip can make it more versatile. You can use the pen for a variety of purposes by simply customizing the tip size and style. 
Strong and Durable Tip
Our custom pen tips are made to last for a long time. These tips have strong pressure resistance and are suitable for people with heavy hands. No matter how much pressure you put on the tip, it will not break.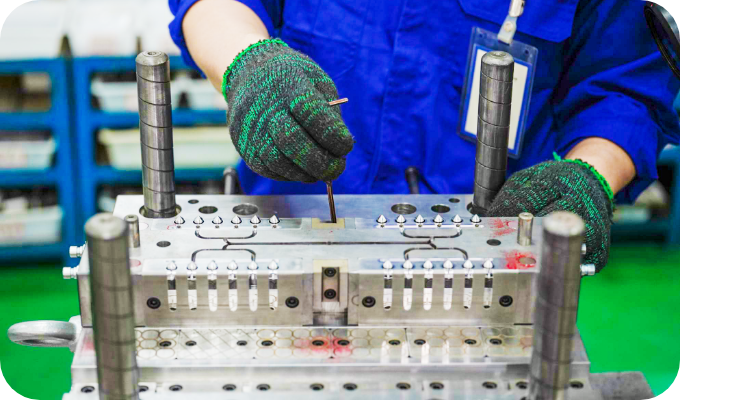 Our Custom Color Pen Tip Manufacturing Process
We use a multi-step process to make custom color pen tips. We use high-quality material to manufacture the tip of the pen. Depending on the order, we manufacture pen tips in different sizes, styles, and shapes. Once the tip is made, we assemble it with the other parts of the pen and connect it with the ink tube to offer a smooth writing experience. Our custom pen tips go through various tests to ensure superior quality. Each component is checked for quality throughout the manufacturing process. Thousands of pieces are produced daily. QC employees collect random samples from each batch and check for consistency, size, and shape. This is usually accomplished through visual inspection and manual testing. 
If you want to customize your color pen tip, we can help you. At Kaywin Pen, we offer the best custom color pen tip solution for wholesalers and stationery brands. You can choose from different types, styles, and sizes of tips to customize your color pens. 
Today, hundreds of thousands of people in different educational institutions and organizations around the world use our colored pens collection.
"Top-Notch Product. Kaywin has never failed to supply us with high-quality goods. The colored pens are well-made and durable."
Kaywin Pens work better than any ordinary color pens in the market as they offer total control over customizing the pen tip. We can always make tweaks in our pen when ordering with Kaywin. 
Placing an order with Kaywin Pen for a custom color pen tip is hassle-free. They offer various tip customization options and always deliver the order on time. We are grateful for the services offered by Kaywin. 
How to Choose the Right Color Pen Tip
If you are looking for a quality color pen, it is important to know what type of tip you should use. The different types of tips include the fine, felt, bullet, chisel, and bullet tip. Depending on the purpose of your pen, these different types of tips can do different jobs.
1. Fine Tip
As the name goes, this type of pen tip is extra thin. The tip is only about 2 to 3 mm to offer precise fine lines. You can use a fine-tip color pen for taking notes or making fine detailed lines. 
2. Felt Tip
Felt tip pens are a great choice for hobbyists and artists who want to express themselves using a wide variety of colors. Felt tip material is also called fiber tip. These tips are softer than metal and tend to write smoothly and evenly. Felt-tipped pens are ideal for note-taking and can be used for creating labels. 
3. Bullet Tip
This type of pen tip is shaped like a bullet. You can get bullet tips in various sizes. As the shape of the tip is like a bullet, it helps you to make even lines. These types of pens are popular with artists and students.
4. Jumbo Tip
If you are looking for a thicker pen tip, it is best to choose a jumbo-tip pen. As the name goes, this type of pen comes with a jumbo tip that is about 4.5 to 7.5 mm in diameter. It is suitable for coloring and making bold lines. 
5. Medium Tip
When buying a pen, you should know the different types of tips available. A medium-tip color pen is suitable for writing as well as drawing. The tip size is about 3 to 4.5 mm in diameter. It is neither too thick nor thin. 
6. Blocked Tip
If you are looking for a strong and durable pen tip, choose a blocked tip pen. It is a collapse-proof tip that offers strong resistance to pressing and helps to protect tip life. 
7. Stamp Tip
There are different colors in pens, and the tips are not always the same. If you are looking for a simple and easy-to-use color pen, you can choose one with a stamping tip. As the name goes, this pen comes with a stamp rather than a tip. It can help you to print different colors and patterns on paper. 
8. Single Tip
This single-tip color pen has an ultra-fine tip for legible handwriting. It also dries quickly and glides smoothly onto paper. This pen has many great features to offer and will make writing a pleasure. It comes with a single tip available in various sizes. 
9. Double Tip/ Dual Tip/ Double Sided
Color pens come in different nib shapes and tips. If you are looking for a two-in-one pen, you can choose one with a dual tip. The pen comes with a tip on both ends. One side has a fine tip, and the other has a jumbo tip. Double tip pen is perfect for students and professionals. 
10. Retractable Tip
This type of pen tip comes with a spring inside and is retractable. It is suitable for small children who often poke their own skin with sharp tips. It is a protective pen tip designed for small children. 
11. Conical Tip/ Broadline/ Super tip
If you're a writer or artist, a guide to different color pen tips may be useful. A conical tip has a cone-line shape and offers more precision when making lines. The diameter of the pen tip is about 3.5 to 9.5 mm. This type of tip is mostly used in markers. 
12. Linear Tip
A liner tip has a different shape which helps you to make multiple lines at once. This special-shaped tip is perfect for people who want to draw more than one line. It is available in various colors and sizes. 
13. Dot Tip
It is a hemispherical-shaped tip that is suitable for making dots. The diameter of the tip is about 3.5 to 16 mm. Preschoolers mostly use it as it offers excellent protection. 
14. Chisel Tip
This type of tip has an axe-like shape. It is commonly known as a knife head and helps you to change the thickness by rotating the tip. This type of tip is suitable for calligraphy artists and writers. 
We offer different types, sizes, and styles of tips. If you want to customize your color pen tip, write now and get a quote. 
We Are The Best Brush Marker Manufacturer from China that Supplies Different Types, Styles, and Colors of Brush Markers At Wholesale Prices