Is Permanent Marker Waterproof?
11th Nov 2022
After reading this article, you may know whether permanent marker is waterproof.
When you're writing a long letter or drawing a picture, you might be wondering, "Is permanent marker waterproof?" The answer to this question depends on the type of ink used. Many of the better-quality markers are water-resistant, but not all of them are. Sharpie markers are known for their water-repellent properties, but cheaper brands won't last as long. This is because they use a slightly different type of ink, which is less water-resistant than the ink used in Sharpie pens.
Permanent markers can be used on a variety of surfaces, including paper and plastic. They are popular for writing documents, labeling storage containers, and creating artwork. They are also great for decorating different items, such as glass vases and mats. Unlike regular markers, they will not be washed off by water.
Another great feature of permanent markers is their anti-slip grip. This prevents the tip from slipping off the paper while writing, while the special snap cap prevents the ink from drying out too quickly. These markers also contain acid-free ink that won't fade or make any odors. This means that they're safe to use at home, in the office, or in classrooms.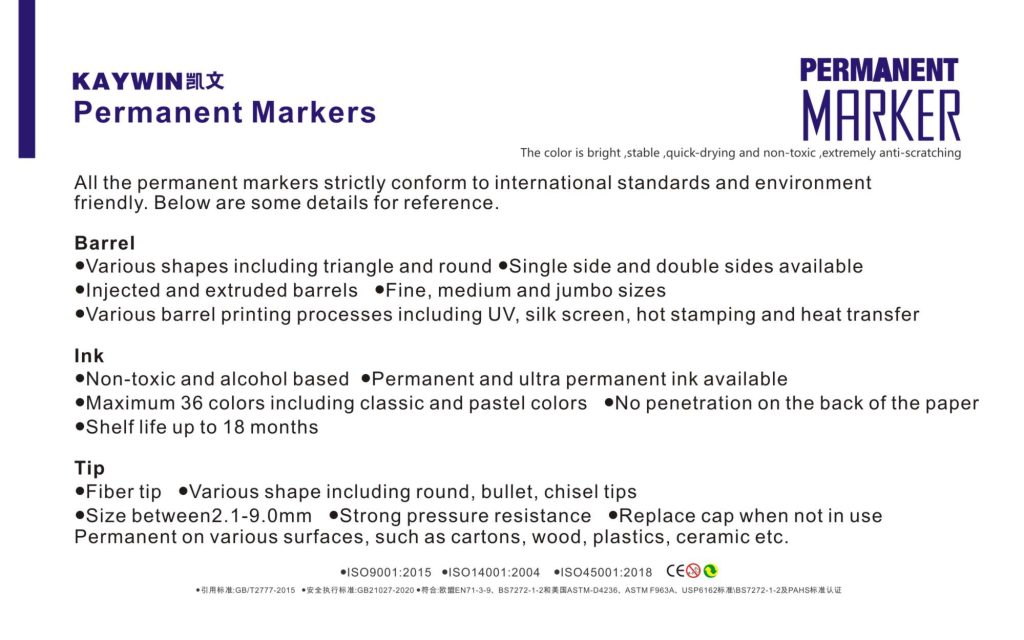 Ink is waterproof
Permanent marker ink is waterproof and smudge-proof, making it ideal for outdoor use. They also dry quickly and stay waterproof on most surfaces. As a result, you can use them to write notes, label containers, and create artwork. In addition, permanent markers are suitable for a wide range of surfaces, including glass.
In addition to being waterproof, permanent ink also resists most solvents and heat. Water and vinegar don't affect permanent ink while rubbing alcohol dissolves it. However, rubbing alcohol may not completely remove the ink from non-porous surfaces, such as glass, plastic, or paper. In addition, permanent markers do not rub off easily on fabrics and may remain on fabric after repeated washings. Over time, however, they will fade to a lighter shade of color.
The main difference between permanent and non-permanent markers is the water-repellency of the ink. Permanent markers can stand even in rainwater, but non-permanent markers might bleed in contact with water. Permanent markers use a special type of ink which is hydrophobic. It behaves like an oily substance that repels water.
Ink quality
The ink quality of a permanent marker is an important factor to consider when purchasing it. The ink should have rich pigmentation, be waterproof and smear-proof, and dry quickly. It should also be fade-resistant and won't cause any odors. Sharpie markers are known for their premium ink quality and pen-like design.
Permanent markers are available in a variety of different styles and colors. Each type has its own pros and cons. For example, the barrel size is important, as larger permanent markers are more difficult to handle and may even be difficult to draw with. Moreover, the ink should flow easily and not be clumped.
A permanent marker's ink will last a few months or even a year. It's ideal for long-term writing or drawing projects because it won't fade. You can also use it on a variety of surfaces.
If you are seeking a color pen supplier, you can choose Kaywin in China. Or you can also get the great manufacturers in this Top 10 Must-Have Colouring Pen Supplies.