Top 10 Glitter and Metallic Pens
01st Mar 2023
Glitter and metallic pens can be a fun way to add sparkle to your art. Whether you use them for decorating, writing, or art journals, there are a number of different brands of these pens available on the market. Here are the top 10 glitter and metallic pens in the marker.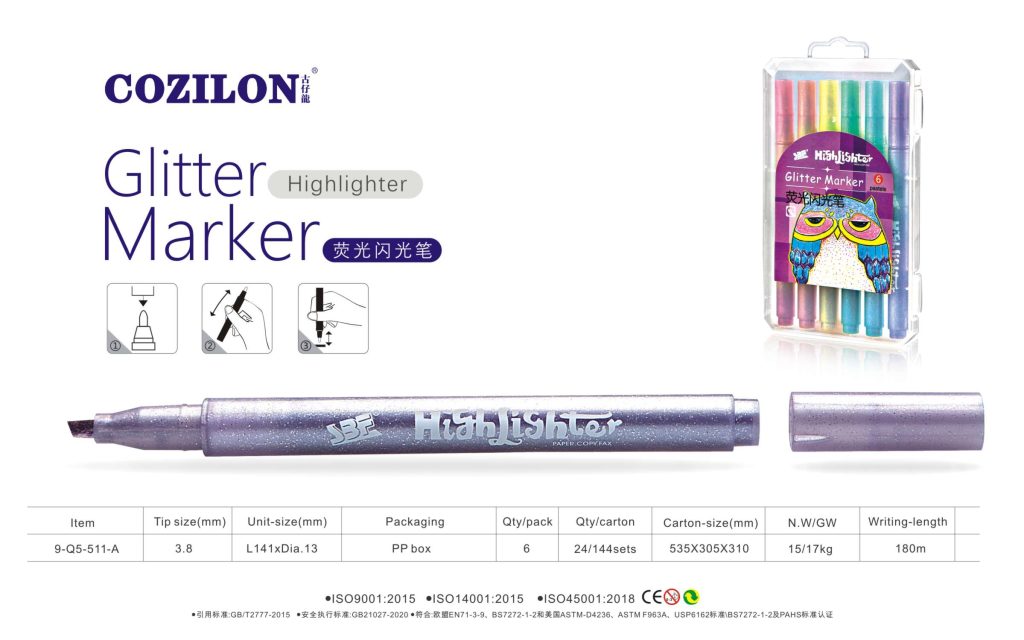 Kaywin Glitter Pens Kaywin Glitter Pens are perfect for adding a little sparkle to your writing and drawing. They are easy to use and are made with lead-free ink. Their fine tip makes them ideal for doodles and lettering. They are also ideal for creating unique designs and bespoke works of art. This means that they are a great choice for aspiring artists of all ages. When it comes to quality, you won't find many better pens than the ones produced by Kaywin. The company is known for producing high-quality pens, and these glitter pens are no exception.
The best glitter gel pens don't have to cost a fortune. If you're looking to get the most bang for your buck, check out the Colorit Gel Pen Set. It comes with 48 pens and matching refills. Plus, it's wrapped in a glittery zippered case. The Colorit Glitter Gel Pen Set is also the only pen set that is guaranteed to be safe and non-toxic. Aside from that, it's one of the most affordable sets on the market.
Chromatek Glitter Gel Pen
Another glitter pen is the Chromatek Glitter Gel Pen. This is a professional-grade set that features 30 different colors. Fortunately, you can order them individually. As a bonus, you'll get a nice gift box with the purchase. This will make a fantastic gift for anyone.
Using Sakura Gelly Roll Stardust Pens is an easy way to add sparkle and shimmer to your paper crafts. This ink features a glitter-infused gel formula that produces a bright, intense color that sparkles on glossy and matte surfaces. It is archival-quality ink that resists fading and feathering.
Pentel Hybrid Dual Metallic
Pentel's Dual Metallic line of gel rollerball pens is a new take on the ubiquitous pen and paper combo. These funky-looking pens are ideal for crafters, art enthusiasts, and all things papery and inky. They come in assorted metallic colors and boast a nifty 1mm tip and a fancy-pants pocket clip. The Dual Metallic gizmo can be used to create dazzling designs in your favorite inks.
Sharpie Metallic Permanent Markers
Metallic Sharpie permanent markers give you the ability to create eye-catching marks on any surface. They offer smooth ink delivery, an opaque metallic ink formula, and a bold fine point. These inks are durable, fade-resistant, and quick-drying. Sharpie Metallic Permanent Markers are available in a range of colors, including Metallic Gold, Silver, and Bronze.
Some of the best glitter and metallic pens come from Colorit. This brand produces high-quality pens with fast-drying ink and seamless application. It also comes in a shiny, zippered case. Their glitter pens are not only beautiful to look at, but they're durable and long-lasting.
DasKid Color Artist Gel Pens
When you want a little sparkle for your next coloring project, consider purchasing a gel and metallic pen from DasKid. These glitter and metallic pens are durable, easy to use, and give off a fun and magical look. Their bright and colorful shades are perfect for shading and blending.
AEN Art glitter and metallic pens offer excellent quality. These pens have a sturdy fine tip, as well as a triangular grip, to ensure a comfortable writing experience. This enables smooth strokes, so you can get that perfect color effect.
Uni Posca Glitter Markers
Uni Posca Glitter Markers are a great way to add shimmering effects to your artwork. They are made of highly pigmented water-based inks that glide smoothly across your canvas. These markers can be used on any material, from wood to paper, and they come in a variety of sparkling colors.